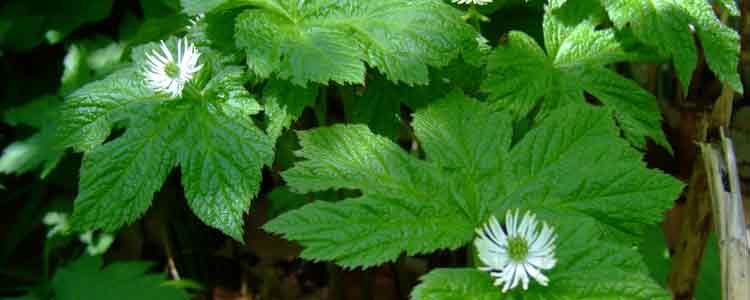 Detoxifying your body using herbs is a common practice, and plenty of herbalists and natural health practitioners support herbal detoxification. Certainly, many herbs continue to be found in clinically tested (and clinically proven) medications and supplements. While goldenseal does possess the capability to detox the human body, it might not be to able to remove drugs from the body or assist you with being able to pass a drug test.
While goldenseal can be useful in detoxifying the body to a certain extent, the herb's use in regards to clearing drugs out of your body just before a drug screening is probably wrong. Discuss the possible risks and right dosage with your physician before you start using goldenseal for any health goal.
Functions of Goldenseal
The berberine in goldenseal can destroy various kinds of yeast, bacteria, parasites and potentially other harmful microorganisms. Along with berberine, goldenseal includes many alkaloids like canadaline, canadine, hydrastine and beta – hydrastine, states the Memorial SloanKettering Cancer Center. Goldenseal's different components appear to provide anti-inflammatory, laxative and astringent effects which all might lead to the herb's possible detoxification actions within the body.
Ways Goldenseal Affects Your Body
Goldenseal, when consumed, may improve your immune system with its antibiotic properties. Through this, it might help with or prevent upper-respiratory infections like colds, influenza, and allergies, as stated by the UMMC. Goldenseal's benefits may additionally assist in treating irritable bowel syndrome, infectious diarrhea, UTIs, and stomach upset, notes the University of Pittsburgh Medical Center. This herb might also help treat high cholesterol, heart arrhythmias, hypertension and congestive heart failure. Other possible uses for oral or external goldenseal could be help with liver cirrhosis, diabetes, cancer, anorexia, pink eye, fevers, menorrhagia, colitis, and edema, claims the Memorial SloanKettering Cancer Center. No widely-approved, conclusive medical study supports the utilization of goldenseal for any health function, though.
Misconceptions about Goldenseal
Goldenseal became popular as a detoxifier for changing the outcomes of drug tests, yet this usage of the herb is actually wrong, says the University of Maryland Medical Center. Besides drug-testing, goldenseal root may provide some beneficial effects when cleansing because its berberine content in the herb really has the possibility to cleanse the body of damaging fungi, bacteria, protozoa and other hazardous micro-organisms, states the University of Pittsburgh Medical Center.
Dosage When Taking Goldenseal
Goldenseal is sometimes utilized topically in creams, powders, or balms.. Taken orally, goldenseal is most frequently utilized in the shape of tea, tinctures, and supplements. Taken in powder form in pills or capsules, there is a common dosage of 3 to 4 grams daily, notes the University of Michigan Health System. However, typically you should follow the dosage directions on the product that you purchase as quality and content levels vary from product to product. Speak to your primary health care provider regarding the right dosage before using the herbal treatment for detoxification or alternative functions.
Warnings
Goldenseal infrequently causes any major unwanted side effects, but it might cause some gastro-intestinal discomfort in particular individuals says the Memorial SloanKettering Cancer Center. Consuming excessive quantities of goldenseal may cause stomach ulcers, constipation, nausea and vomiting, anxiety, depression,  convulsions, hallucinations, seizures, and even respiratory difficulties. Goldenseal could be dangerous to take for those individuals with hypertension or cardiovascular disease. Goldenseal may also interact negatively with particular drugs like cyclosporine, tetracycline antibiotics, and blood thinners, warns the UMMC.
Final Drug Detox Warning
Goldenseal is becoming popular as an aid to pass a drug screen because it's famous for its detoxifying qualities and many believe that it can conceal the existence of cannabis within the body. While goldenseal detoxifies the body of impurities and may have several beneficial effects, it is typically unsuccessful at creating clean urine for a drug test.