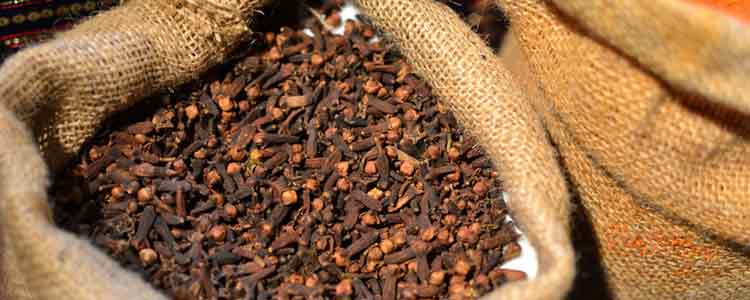 A toothache is an awful thing the sends lots of folks running right to the dentist. Sadly, these sorts of things often occur in the nighttime when the majority of dental offices are closed for the day. Some people just aren't in a situation where they can get themselves to a dentist. In any event, using clove oil for a toothache is an amazingly good way of dealing with the problem. Cloves have a long history of being used by dentists to help those in pain. This is due to the fact that they have a strong antiseptic and anesthetic known as eugenol that wipes out germs and eases oral-pain.
The plant itself, which is where the essential oil comes from, originally comes from India. While there are numerous clove benefits, clove oil isn't for everybody. It has a powerful and disagreeable flavor to some, and it also may have negative effects when substantial amounts are accidentally consumed. However, it was extensively used in dentistry before the arrival of more industrial anesthetics as mentioned above, and studies show it works because of its ingredient, eugenol, which is exactly the same compound accountable for the plant's odor.
While you can use cloves when ground up, powdered, whole, in supplements, or as an oil, the oil is what works the best for those suffering from oral pain. That's why I'll be focusing on that specifically in this article.
Now, to utilize the clove oil you'll want to make sure you have clove essential oil, olive oil, and some cotton balls.
First, rinse your mouth with warm salt-water to have it properly flushed out. In doing this first, you're letting the oil do its work the best it can because there's nothing to block it or make it difficult to sink down to the raw area of your mouth that is troubling you.
After rinsing out your mouth, you'll want to mix 3-4 drops of the clove oil with 1/2 tsp of the olive oil. Then, take a cotton ball and soak it with the mixed oils and place the cotton ball against the spot that is hurting you in your mouth. Keep it there until the pain starts to subside.
Remember, this is only something you can do to help you to eliminate the pain. It is not at all something which will heal whatever is making your tooth hurt. Eating less processed sugary foods and brushing and flossing regularly will help avoid toothaches as time goes on.
Potential Risks of Clove Oil
Clove oil is something easily found in many health food shops. Even though it is considered safe when used accurately in modest quantities, it may lead to respiratory and liver problems when too much of it is consumed.
Additional Things to Keep in Mind
Clove oil is quite effective. The oil alone may cause injury and burning along with a numbing of the area. Clove oil ought to be used and diluted according to package instructions. Skin allergies are possible for some individuals. Cloves can influence a person's blood sugar levels, as well.