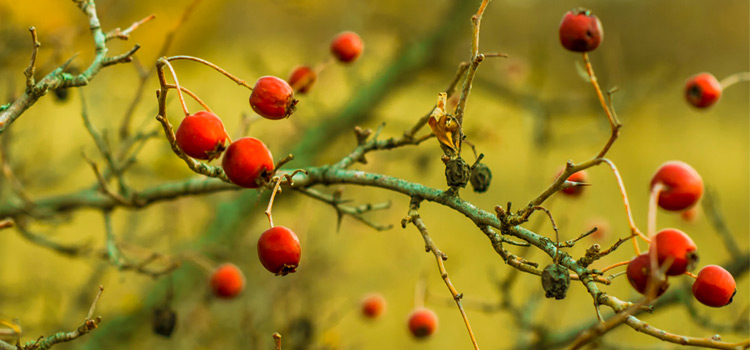 You've probably seen rosehip seed oil listed as an ingredient on skin care product labels. But if you're not sure what a "hip" is — let alone who's most likely to be helped by topical applications of its oil — some background can give you a "rosier" outlook on this beneficial botanical.
What is Rosehip Seed Oil?
Most frequently culled from wild Chilean rose bushes (Rosa rubiginosa or R. moschata), rosehip seed oil is made from the oil-rich seeds of rose "hips," the fruits that appear on some varieties of rose bushes after flowering season. 1 The oil, when pressed from the hips' seeds, is rich in beneficial fatty acids and vitamins. While not edible, rosehip seed oil is considered safe and beneficial for external use. 2
Seed oils, much like nut and vegetable types, can be either greasy or dry. Dry types, including rosehip seed oil, should not be confused with "drying" — in fact, quite the opposite. Like other dry oils, rosehip seed oil sinks into the skin rather than beading up on the surface, making for a super-moisturizing product.
Cold-pressed rosehip seed oil is considered superior to solvent-extracted types, because no chemicals or high temperatures are used, which can destroy some of the beneficial properties of the oil. Rosehip seed oil is a light yellow-orange color, with an earthy scent. It's included in beauty products like scar cream, moisturizer and body lotion, but you can also use it straight from the bottle.
General Benefits of Rosehip Oil
The fatty acids and heaviness of rosehip seed oil makes it ideal for dry, irritated or damaged skin. It's specific fatty acid content has been calculated as almost 80 percent linoleic and linolenic fatty acids, followed by oleic and palmitic fatty acids. 3 The high amount of omega-3 and omega-6 fats helps skin retain elasticity and reduces inflammation, among other benefits. The anti-inflammatory qualities are what make rosehip seed oil helpful in fighting skin conditions like psoriasis and eczema. 4
In addition, fatty acid deficiency is associated with an "over-reaction" of skin cells after injury. In plain terms, that means that if your diet or biochemical makeup has resulted in this deficiency, you may have more scarring after you get burned, suffer a wound, or even get bitten by an insect. Topical applications of omega-3s and omega 6s, such as those found in rosehip seed oil, can help speed up the healing of scars. 5
What is Rosehip Oil Best Used For?
Skin care and other external applications are the common uses and where benefits of rosehip seed oil are most widely proven.
Complexion aid. The fatty acids contained in rosehip seeds help promote elasticity in the skin. That cellular flexibility helps reduce sagging and fine lines. In addition, the emolliency of the oil is excellent for moisturizing dry skin.
Scar tissue. The oil's ability to help healthy new skin cells form and replace scar tissue is helpful in healing from burns, acne scars and wounds, as well as trying to decrease the tissue layers that comprise old scars.
Rashes. If you have conditions such as eczema or psoriasis, rosehip seed oil (or products containing it) has anti-inflammatory properties that helps with redness and irritation.
Nail and hair treatment. The cell-rejuvenating properties of rosehips seed oil aids in strengthening the fragile cells in these areas.
Rosehip Seed Oil Precautions
Don't use this super-emollient liquid if you're trying to treat pimply, oily skin. If you have dry skin but are also prone to breakouts, apply a small amount to your "danger zone" to see if it results in clogged pores and acne.
In addition, if you have a known allergy to roses, avoid this botanical product. Because you may be unaware of the allergy, it's always best to use a small amount at first, on the side of your neck or behind your ear.  Worth noting, however, is that studies in which rosehip seed oil was studied for scar healing found that no one experienced adverse side effect. 6
If you're making a home beauty treatment containing the oil, avoid formulas which require a heating stage. Stovetop or microwave heating could destroy the beneficial compounds of the rosehip seeds. Keep the oil or your unused home treatment blend refrigerated. 7